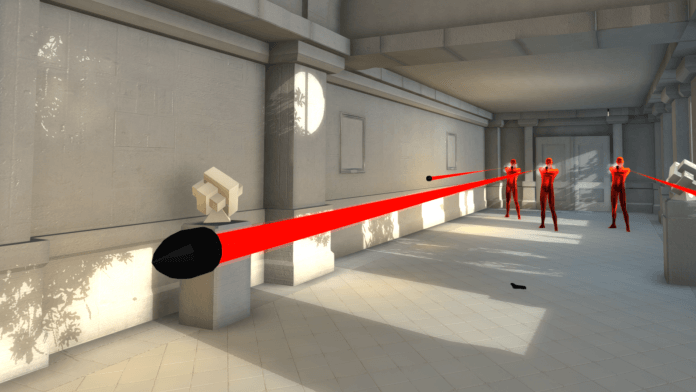 SUPERHOT Activated – Available on PC
Already selling like hotcakes on Steam at a regular price of $25.00. Reviews are also very positive so far.
Blurring the lines between cautious strategy and unbridled mayhem, SUPERHOT is the stylishly time-bending FPS in which time moves only when you move, available today on PC (Win/Mac/Linux) via retailers and digital distributors.
In addition to a reality-warping main storyline, SUPERHOT features:
– Endless Mode – How long can you last against unyielding waves of enemies?
– Challenge Mode – Take on SUPERHOT with your bare hands, no restarts, timed runs, and more.
– Replay Editor – Edit and upload your best runs for all to see on Killstagram.com.
– Extras – Delve further into SUPERHOT with mini-games, ASCII art, and [redacted].
No regenerating health bars. No conveniently placed ammo drops. It's just you, outnumbered and outgunned, grabbing the weapons of fallen enemies to shoot, slice, and maneuver through a hurricane of slow-motion bullets.
Available today on PC (Win/Mac/Linux), SUPERHOT will be coming to Xbox One later next month.
https://superhotgame.com
Source: https://www.gameogre.com/superhot-on-fire/
This week on All Things Nintendo, Brian is joined by the New York Post's mixed-martial arts reporter, co-host of the Ground & Pwned podcast, and former games journalist Scott Fontana to preview the upcoming holiday gaming season. The two go month by month, breaking down the most exciting releases on the horizon on Nintendo Switch, starting with the first week of October. If you'd like to follow the people from this episode on Twitter, hit the following...