Read Time:
1 Minute, 28 Second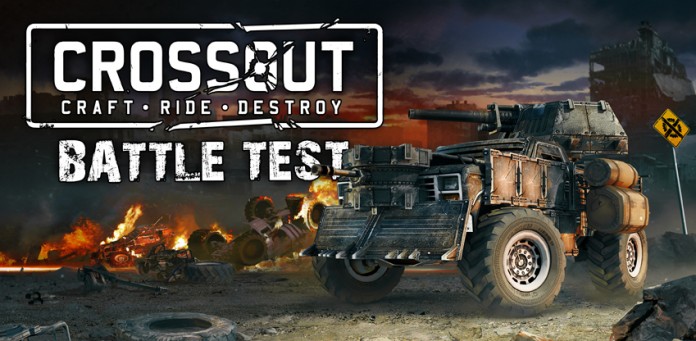 'CROSSOUT' BATTLE TESTING DRIVERS WANTED!
Take Part in the Next Phase of Advanced Battle Testing for Gaijin Entertainment and Targem Games Team Based Multiplayer Vehicle Combat Game
Today, the hotly anticipated PC team-based multiplayer vehicle combat game Crossout, brought to you by the award-winning developer and publisher Gaijin Entertainment and Targem Games development studio, enters its next phase of Battle Testing. For those who have not yet registered there is still an opportunity to join those who previously registered in the next phase in the ongoing Battle Testing program, but players must sign-up by the end of next week on the Crossout website in order to craft, ride and destroy!
Beginning January 28 and running through February 7, Gaijin Entertainment will issue more invites to play, so for interested players who have not registered, please visit http://crossout.net/en/play
Set in a post-apocalyptic world devastated by an alien invasion and human genetic testing gone awry, Crossout tests players' creativity in building, upgrading and customizing deadly armored vehicles to destroy enemies in open player vs player combat.
The next exciting phase of testing will included a beefed-up crafting system with advanced parts for vehicles and will also introduce Factions. The first factions will involve Scavengers, Traders, Lunatics and a number of Engineers. Players who join a faction earn reputation through combat and earn experience to access new missions, vehicles parts, blueprints of faction vehicles and various other bonuses.
To find out more about Crossout's various Factions visit http://crossout.net/en/diary/11
For a chance to join this latest round of Battle testing on Crossout – Players can apply for participation, by visiting Crossouts official website: http://crossout.net/
Source: https://www.gameogre.com/crossout-battle-testing/
This week on All Things Nintendo, Brian is joined by the New York Post's mixed-martial arts reporter, co-host of the Ground & Pwned podcast, and former games journalist Scott Fontana to preview the upcoming holiday gaming season. The two go month by month, breaking down the most exciting releases on the horizon on Nintendo Switch, starting with the first week of October. If you'd like to follow the people from this episode on Twitter, hit the following...