Read Time:
2 Minute, 16 Second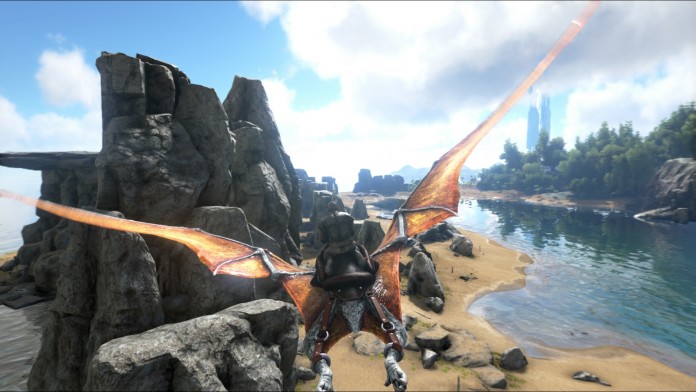 Recently bought Ark Survival Evolved thanks to Humble Monthly and it being their preview game for this month:). Having to go slow due to my old big rig, but so far enjoying this Sandbox leader. The graphics and gameplay are definitely a step up from almost every other game in the genre.
ARK: SURVIVAL EVOLVED WANTS YOU TO PLAY WITH HANDCUFFS AND A GIANT BEAVER
Yes, the Natural Lumberjack Builds Dams and Gathers Wood and the New Handcuffs Help to Control Human Prisoners
SEATTLE, WA – Tuesday, February 23, 2016 – Studio Wildcard, the studio that never sleeps, has something new for the more imaginative survivors in ARK: Survival Evolved. Available today on PC, ARK players can now tame, train, and mount Giant Beavers AND use handcuffs to rustle pesky humans should they try to, say, steal your Beaver. Today's update also offers improved client and server performance streaming.
Steam survivors will find the newly-available Handcuffs useful for ensuring their prisoners don't escape and aren't violent, while the super-cuddly Giant Beaver creature can build Dams, harvest and carry vast quantities of Wood, and act as a mobile crafting station. Beavers also can swim! Wildcard Studio encourages Survivors to get onto their ARK now to ensure they're the ones doing the Handcuffing, and not the other way around!
The Giant Beaver, aka Castoroides Feliconcisor, is a large, mammalian herbivore that tends to live near water. Unlike other larger beaver species, this one retains the chisel-shaped teeth of modern beavers. As is typical for beavers, they build dams as habitats, but the larger creatures on the island have a tendency to trample them. As a result, finding unsullied dams in the wild is quite rare.
The value of a tamed Castoroides is obvious from its physiology. The creature naturally gathers wood extremely efficiently, far more than most species on the island. It's not the strongest creature, so it can only carry limited amounts, and it doesn't realize how dangerous the island actually is.
Studio Wildcard is challenging the ARK: Survival Evolved and modding communities to put their creativity to the test in the ultimate ARK: Survival Evolved $60,000 modding competition! Whether it's building an entirely new ARK Island or designing a new competitive gameplay mode, Studio Wildcard is looking for fans to submit their entries in one of three categories: 'Mods', 'Maps' and 'Total Conversions.' All entries must be submitted before March 15, 2016, and the winners in each category will be announced on April 15, 2016. Jump into the Worldwide Modding Contest HERE: survivetheark.com/index.php?/forms/2-international-modding-contest/
Source: https://www.gameogre.com/ark-survival-evolved-update-with-an-ogre/
This week on All Things Nintendo, Brian is joined by the New York Post's mixed-martial arts reporter, co-host of the Ground & Pwned podcast, and former games journalist Scott Fontana to preview the upcoming holiday gaming season. The two go month by month, breaking down the most exciting releases on the horizon on Nintendo Switch, starting with the first week of October. If you'd like to follow the people from this episode on Twitter, hit the following...